Upcoming Workshops
4 week Beginner Yoga Series
Sundays, October 9th-30th 11:30am-12:45pm
Cost $75, includes access to our virtual library and in person/live streamed classes during the 4 week enrollment.
This 4 week series is for people new to yoga or those whom may need a refresher. This series focuses on the basics of all classes offered on our weekly schedule. There will be time for questions and to learn modifications jump starting your yoga practice at Sojourn.  Wear comfortable clothes & bring a mat (only a few are available). Registration required.
---
 Movement Principles Workshop
Wednesday, September 21st 7:30-8:45pm
Cost $25

All levels are welcomed in this practical workshop. This workshop is especially helpful for the beginner! The focus will be on alignment and body awareness in basic yoga postures to fine tune the way movement is approached on the mat. Registration is required. Sign up
---
 Discussion and Meditation
Wednesday, September 14th 7:30-8:45pm
Cost $25
This class is an opportunity to study and discuss yogic philosophy and practices with other students and teachers. A new topic for each class will be posted in the studio and on the website. Meditation will be incorporated in every class, no experience needed. Regular class rates apply, unless otherwise posted.
Topic: Yamas; The yogic restraints that guides us.
---
Wall Workshop: How to Use the Wall as a Prop.
Wednesday, October 19th 7:30-8:45pm
Cost $25
In this flow based all levels workshop, we will explore postures (asanas) using the wall as a prop. The use of the wall can enhance your understanding of body alignment and ways to vary postures to make them more attainable or challenging. All students welcome.  Registration is limited due to space.
---
Joints and Glands: Promoting Flexibility and a Free Flow of Prana
TBA
This workshop is for people of any level of experience. You will be guided through gentle movement of the joints to promote flexibility in the deeper tissue of the ligaments, tendons and fascia. This movement can improve range of motion, strength in the joints, and balance. This also facilitates better circulation throughout the body to open a free flow of prana.
---
Flow Essentials Workshop with Liz                   
TBA
Cost $25

This informative workshop is designed to promote a deeper understand of the movements in a vinyasa practice. This workshop will help new or current flow students learn variations and modifications to support this advanced practice.  Students will work on body alignment, qualities of movement, and the connection of breath and movement.
---
Inhale/Exhale: Breath training for the Yogi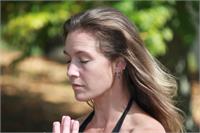 Sunday, October 9th 4:00-5:30pm
*CEC for RYTs
Cost $25
This workshop is to promote a deeper understanding of the breath and how it relates to our body and mind. It will focus on breath training, breath awareness and pranayama techniques as they relate to yoga and meditation practices. Registration required.
---
Turning Your World Upside Down: An Inversion Workshop
TBA
Cost $25
This is an advanced workshop. Inversions are energizing for the body and are incorporated into all Sojourn classes at some level. These postures require strength, balance and trust in your body. In this workshop, you will learn safe ways to set up inversions, techniques to strengthen your body, and modifications to make inversions safe and beneficial in your practice. Our focus will be: Firefly, Crow, Side Crow and Forearm Stance.
---
Specialty Classes
Pop Up 90 Minute HEATED Flow Class with Liz
TBA
This 90 minute Flow class will be HEATED!! This advanced class integrates movement and breath as you transition from one pose to another. Prepare for a heated room with the doors closed. Hands on assists will be offered for those who would like adjustments.
---
Please come visit our studio located at:
4211 Ferne Blvd, Drexel Hill, PA 19026
---