Upcoming Workshops
Beginner Yoga Series

TBA
Please check out our Basics class on the regular weekly schedule until the next series is scheduled.

This 4 week series is for people new to yoga or those whom may need a refresher. This series focuses on the basics of all classes offered on our weekly schedule. There will be time for questions and to learn modifications jump starting your yoga practice at Sojourn.  Wear comfortable clothes & bring a mat (only a few are available). Registration recommended. Sign up
---
 Movement Principles Workshop
Saturday, July 21st 1-3pm

All levels are welcomed in this practical workshop. The focus will be on alignment and body awareness in basic yoga postures to fine tune the way movement is approached on the mat. Registration is required. Sign up
---
 Discussion and Meditation
This class is an opportunity to study and discuss yogic philosophy and practices with other students and teachers. A new topic for each class will be posted in the studio and on the website. Meditation will be incorporated in every class, no experience needed. Regular class rates apply, unless otherwise posted.
Topic:

TBA
---
Flow Essentials Workshop with Liz                   
Wednesday, July 18th 7:30-9pm

This informative workshop is designed to promote a deeper understand of the movements in a vinyasa practice. This workshop will help new or current flow students learn variations and modifications to support this advanced practice.  Students will work on body alignment, qualities of movement, and the connection of breath and movement.
---
Inhale/Exhale: Breath training for the Yogi with Liz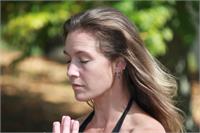 TBA

This workshop is to promote a deeper understanding of the breath and how it relates to our body and mind. It will focus on breath training, breath awareness and pranayama techniques as they relate to yoga and meditation practices. Registration required.
---
Specialty Classes
 90 minute Yin with Dan
TBA Regular class rates apply. Sign up

Yin yoga is a practice consisting of seated, prone or supine poses held for a longer amount of time. The benefit of this practice is to increase blood circulation to our joints by releasing tension in muscles, tendons, ligaments and fascia. Yoga props such as bolsters, blankets, blocks, and straps are used in this practice. It is appropriate for all levels of experience. This is a non-heated class.
---
 90 minute Flow with Liz

Friday, July 6th  Regular class rates apply. sign up

One of the most advanced classes on the schedule, some experience is recommended. Each class focuses on a featured pose or movement to help develop a deeper and more exploratory practice.
---
 Donation Based Yin Class
 Guided by our Sojourn Yoga Teachers

Wednesday, July 11th at 6pm with Elizabeth
Donations for Providence Animal Center will be collected. The following items are needed:
CAT TREATS
SOFT DOG TREATS
PUPPY PADS
CLOROX WIPES
PEANUTBUTTER
Learn more at www.providenceac.org
Our yin class is appropriate for all levels and a non-heated class. Yin yoga focuses on long holds in seated, prone and supine poses using props to support your body.
Ahimsa or non-violence can be put into action by showing compassion, friendliness and consideration for others. We offer donation-based classes in our studio. All proceeds will go to support organizations or charities in need. Help our studio practice this yama by attending or donating to these classes. If you have a connection with a charity or an upcoming fundraising event, please share with us.
---
Prenatal Yoga with Ellen

TBA
This class is for pregnant women to learn safe and supportive postures and variations to use in a yoga practice during the development of baby and the physical changes happening in a mother's body. Please inform your doctor or prenatal care provider about this series before you attend the first class. Regular class rates apply. Sign up
---
Family Yoga Class
TBA  sign up
Cost $15 adult/child, $5 additional for each adult/child
Join us for this fun filled 60 minute class with your loved ones. Explore yoga postures, play games, and learn to breath together on the mat. This is a class for adult/child(ren);  Suggested age is 5 years or older, child(ren) must be accompanied by an adult. 
---
Please come visit our studio located at:
4211 Ferne Blvd, Drexel Hill, PA 19026
---